CSSD recognizes staff milestones of 5 & 10 years
Years of success and dedication were marked as the Central Square Board of Education honored its staff who reached 5 and 10 years of employment with the district this year.
The celebration, which was one of the first items at the March Board of Education meeting, began with a video honoring the Redhawk staff followed by each being called up and greeted by a line of Board of Education members. Then, CSSD Superintendent Thomas J. Colabufo presented each staff member with a commemorative pin.
Colabufo thanked those in attendance for their years of service and dedication to the district, and noted them as a wonderful group.
After group photos, a cake prepared for the honorees was cut and served.
Below are photos from the night along with a list of all the staff members honored at Tuesday night's meeting.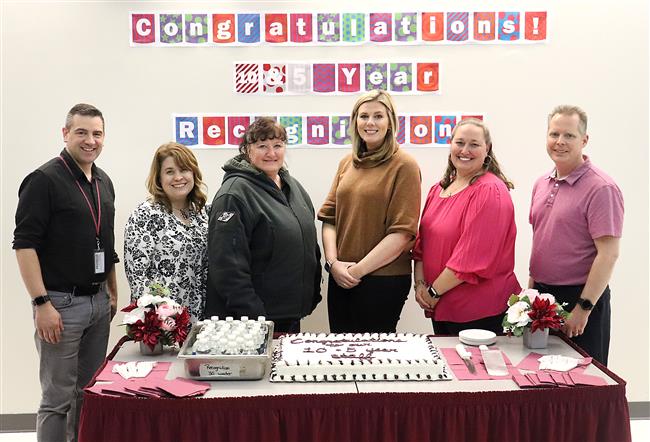 10 Years
Cindy Brown
Angelo Carroccio
Nancy Clark
Edward Darrh
Lindsey Ezzo
Jason Hoyt
Ronald Hurne
Eileena Kelly
John Landers
Angela Last
Krista Lewis
Kevin Matteson
Kyle Parra
Dean Porter
Margaret Saunders
Rebecca Shaughnessy
Lindsey Stehle
Leanne Strader
Heidi Sullivan
Kelly Taylor
Damon Villnave
Elizabeth Wallace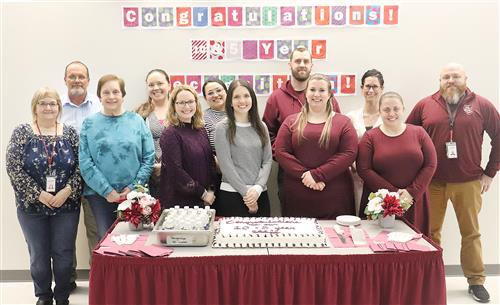 5 Years
Alyssa Anderalli
Julia Anderson
Barbara Donaldson
Benjamin Feinberg
Julie Frank
Mia Galvan
Amanda Geiss
Iraina Gerchman
Allyson Grados
Mackenzie Graham
Mark Green
Kristen Heffernan
Sarah Henderson
Christina Karkowski
Miranda Kenney
Deborah Ladd
Andrea Love
Stacy Millert
Johnnie Pierce
Kayla Raut
Valerie Schwalm
Daniel Scicchitano
Joanne Sliter
Shannon Sofsky
Alexis Spadaro
Jennifer Tartaglia
Jordan Tiff
Megan Vecchio
View the full presentation featuring the name and photo of each staff member honored that was shown on the screen during the recognition ceremony.