Return to Headlines
Redhawk senior athletes honored at ceremony
Officials, coaches, parents and supporters were on hand as the Central Square Redhawks celebrated and recognized its top scholar-athletes Tuesday night.
Every honoree at the Central Square Senior Athletic Awards received a plaque and were honored with a heartfelt speech written by each coach. Athletic Director Jamie Grimshaw congratulated each athlete and thanked them for their time and dedication given to each program throughout their years.
The ceremony was held Tuesday, June 7, 2022 in the Paul V. Moore High School cafeteria.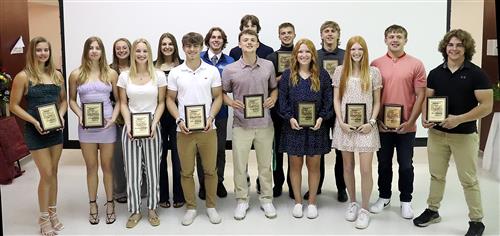 Below is a list of those honored during the awards ceremony. For a full gallery of photos and a group shot, visit the Central Square Facebook at the following link: https://www.facebook.com/CentralSquareSD/posts/5322308881169466
Central Square Athletic Awards 2021-2022
Section III Scholar Athlete
Outstanding Qualities of Scholarship and Leadership
Evelyn Dolce & Kevin Suchecki
Academic Athlete
Outstanding Academic Achievement
Ella Dolce & Ryan Senf
Most Competitive
Competes with Determination, Focus, Mental
Allison Bateson & Colby Fox
Sportsmanship
Outstanding Qualities of Sportsmanship and Fair Play
Peyton Webb and Tyler Fleming
Coaches Awards

Coaches Workhorse Award
Outstanding Qualities of Desire, Work Ethic and Team Play
Rosemary Fleischmann
Coaches Team Player Award
Outstanding Qualities of Desire, Work Ethic and Team Play
Deanna Bellinger
Coaches Award
Outstanding Qualities of Desire, Work Ethic and Team Play
Brian Weed II
Coaches Head, Heart & Hustle Award
Outstanding Qualities of Desire, Work Ethic and Team Play
Alex Peterson
Outstanding Athlete
Outstanding Qualities of Leadership, Work Ethic and Athletic Ability
Emma Dempsey & Bryce Koagel
NYSPHSAA Champion
D1 CHAMPION @ 189lb | D1 Most Outstanding Wrestler | D1 Wrestler of the Year | A True Sign of Passion, Work Ethic | Dedication, Character & Determination
Kole Mulhauser