Return to Headlines
PVM Top 100 students honored
Administrators, families and community members gathered May 25 at Paul V. Moore High School to honor the 2022 Top 100 students.
Students were honored individually with the rest of their class and received a pin that can be worn during graduation.
Central Square Superintendent Thomas J. Colabufo applauded the students' hard work and also made sure the Top 100 took time to recognize their parents and all the support they've been throughout the years.
The Class of 2022, which graduates on June 24, was honored last and special acknowledgement was made to their top five students. The class valedictorian is Abigail Colledge, with salutatorian honors going to Gabrielle House. Ashley Concolino, Evelyn Dolce and Faith Farley were third through fifth, respectively.
Below is a photo of each class at the ceremony followed by an alphabetized list of Top 25 students in each Paul V. Moore class for the 2021-22 school year.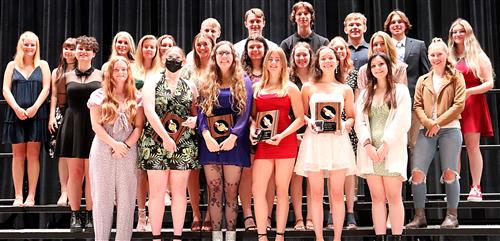 Class of 2022: Josie Colacicco, Abigail Colledge, Ashley Concolino, Ella Dolce, Evelyn Dolce, Faith Farley, Lauren Foland, Kathryn Guernsey, Savannah Gunther, Riley Hayden, Meghan Heffron, Matthew Herrmann, Serena Heyden, Gabrielle House, Ainsley MacDuff, Kole Mulhauser, Cadence Pandossi, Rachel Panek, Ryan Senf, Isabella Sherman, Kevin Suchecki, Emily Vieru, Olivia Waterbury, Gavin Wells and Sage Wolfe.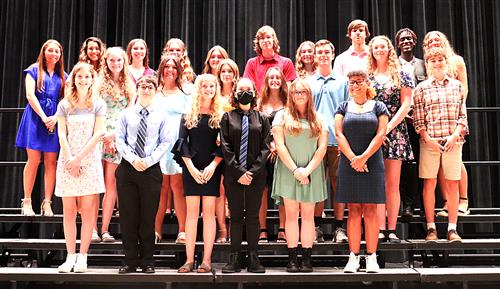 Class of 2023: Sophia Bellows, Carlie Christensen, Allison Domachowske, Madison Geesaman, Veronica Guzman, Samantha Haley, Kamryn Hunt, Isabelle Kennedy, Elaina Kernan, Cailynn LaCelle, Katherine Martin, Tyler Meigel, Elizabeth Ngumbi, Connor Orlando, Jennifer Purdy, Priya Retajczyk, Breanna Ribarovski, Kenzie Rumo, Shaun Saunders, Nina Stalsonberg, Joshua Sundet, Melanie Thornton, Maria Toleson, Lilliana Walker and Gretchen Wiss.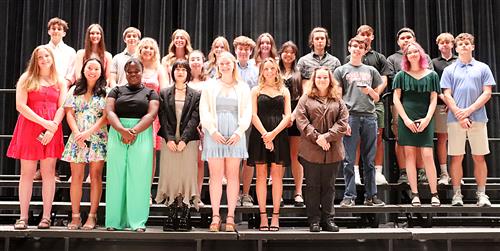 Class of 2024: Ian Attle, Gabrielle Basile, Natalee Crandall, Dominic Dattolo, Arieana Fenton, Ciena Ferguson, Catherine Hayes, Hannah Herrmann, Thomas Hogeboon, Aidan Howard, Akira Kuratate, Blake Lucas, Sophia Monica, Natalie Montalto, Max Peters, Ngan Phan, Gabriella Rabbia, Truman Remenicky, Lillian Rothrum, Olivia Ruzekowicz, Sofia Sherman, Michael Thompson, Madison Tucci, Jasmine VanAntwerp and Bradon Wolfe.
Class of 2025: Kevin Battles, Michelle Brissette, Andrew Card, William Card, Zachary Card, Chase Enright, Gabriella Hinman, Susanna Hipp, Maya Howard, Delayna Humphrey, Drew Jackson, Gabriella Krause, Larkin Lytle, Liliana McClowry, Connor Peterson, Autumn Quill, Gianna Rabbia, Matix Ramsey, Nicole Reale, Sydney Saunders, Owen Schlueter, Emily Sobel, Abigail Sundet, Theresa Tancredi and Julian Wines.