Return to Headlines
2 PVM educators earn spots in Master Teacher Program
Two Paul V. Moore High School instructors and leaders have been selected to join the prestigious ranks of the New York State Master Teacher Program (NYSMPT).
Frederick Kowanes and Katrina Vant, both longtime teachers at Central Square School District, both learned in March they were among just 230 across the state selected this year for the honor.
The 230 new Master Teachers are dedicated professionals who teach science, technology, computer science, robotics, coding, engineering, math, and integrated STEM courses across grades K-12 including advanced placement, honors and regents levels.
Kowanes, who has been teaching for 28 years with Central Square, is a ninth-grade science instructor, is the district's science department coordinator and has also advised the high school's Envirothon team.
"For the past few years, I have been collaborating with agencies outside of school (DEC, NY Sea Grant, etc.) to bring new and interesting activities and experiences to my students," Kowanes said. "The NYSMTP opens a whole new set of opportunities for me and experiences I can bring to my students."
One such opportunity, Kowanes said, will come this spring when he works with scientists investigating the depths of Green Lake and comparing it with the ecology of the lake's bottom to learn about possible conditions on other planets.
Vant, who teaches technology education to grades 9 through 12, has taught for 21 years including 17 at CSSD. She is the technology department coordinator and advises the Redhawk Robotics Club.
"Technology Education is advancing constantly at a rate so fast that it can be difficult to stay up to date," said Vant. "As a teacher I am always concerned with keeping what I teach as relevant to my students as possible. To prepare them for a career in a technological field I need to stay current with the skills and equipment that are in demand by employers."
Vant said the NYSMPT is already helping her toward this goal, as she is currently learning about biopolymers and their use in different types of 3-D printing.
In total, there are more than 1,400 Master Teachers across New York State, including 183 in the central New York region.
"New York's Master Teacher program has long celebrated the immense talent across our state, recognizing the leaders in STEM education who inspire students and their peers alike," said SUNY Interim Chancellor Deborah Stanley. "During this particularly challenging time in our history, we appreciate our teachers even more for keeping their students engaged and succeeding in their classwork. On behalf of SUNY, my congratulations to this year's honorees."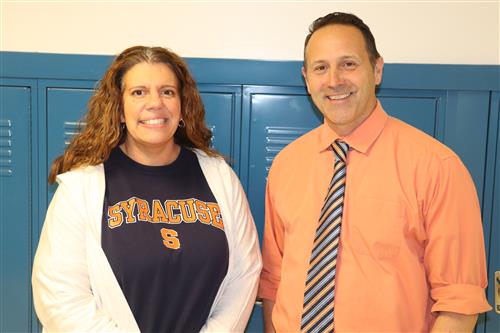 Pictured are Katrina Vant and Frederick Kowanes.