Return to Headlines
Board of Education honors 15- and 20-year employees
Dozens of staff members from Central Square School District were applauded and honored by its Board of Education at its December monthly meeting for reaching 15 and 20 years of employment with the district.
Each staff member's name was read at the Dec. 6 meeting, and those present received a round of applause, handshakes and elbow bumps from Board of Education members and a service pin before taking a group photo.
After both groups were called, CSSD Superintendent Thomas Colabufo expressed his sincere thanks for their hard work and the hundreds of years of "this wonderful group of dedicated individuals" has given to Central Square.
Staff recognized for reaching 20 years included: Charles Adamski, Aimee Burns, Donna Carr, Colleen Clark, Rose Cruceta, Adam Frymoyer, Erin Greco, Timothy Groth, Todd James, Melinda Jones, Sheryl Kasarda, Candice Kazlauskas, Jeffrey King, Kimberle Lacey, Patrick Ladd, Brenda Lyons, Karri Maher, Carol Martin, Deanne McClellan, Sandra Petty, Kathleen Plete, Vickie Sampson, Joseph Scanlon, Casey Seckner, Charlene Tortorelli, Paula VanBeveren, Cindy Vose, Timothy Wales, Jennifer Watrous and Patricia Wilckens.

---
Central Square employees who were recognized for 15 years were: Brenda Anderson, Joseph Andrews, Andrea Antinelli, David Bartholomew, Derek Burghart, Richard Creamer, Caroline DeSocio, Angela Enigk, Brett Halliday, William Hansen, Mary Hart, Staci Hilton, Jack Johnson, David Johnson, Kari Kimpland, Tricia Klock, Heather Lacey, Amy Loveless, Kristine Naumov, Yvonne Nowodworski, Denise Parrotte, Melanie Payne, Yvonne Renne, Crystal Seoane, Elizabeth Sorbello and Chris Warford.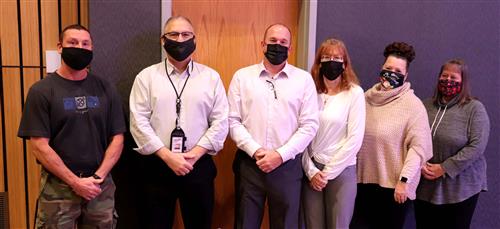 View the full presentation featuring the name and photo of each staff member honored that was shown on the screen during the recognition ceremony: cssd.org/cms/lib/NY50000232/Centricity/Domain/4/CentralSquareStaffRecognition.pdf