Return to Headlines
More than 80 students inducted to National Honor Society
The gymnasium rang out in applause dozens of times as the crowd cheered on each of the more than 80 students who joined the ranks of the Paul V. Moore High School Chapter of the National Honor Society during its induction ceremony.
NHS Advisors Melissa Staats and Tiffany Bergman helped conduct the ceremony, and Central Square Superintendent Thomas Colabufo during a speech congratulated the students and spoke about the importance of the four NHS pillars of scholarship, leadership, character and service. The event was held the evening of Friday, Nov. 12.
An impressive 82 students were inducted as their accolades and activities were presented as they walked to the middle of the decorated gym in front of family and friends in the audience before signing their oath to the society. After inductees were presented, all students recited the membership pledge.
The National Honor Society remains the leader among organizations and societies to promote recognition for students who reflect outstanding accomplishments in the areas of scholarship, character, leadership, and service. The NHS at Paul V. Moore High School strives to uphold these four pillars of excellence and choose only those students who exemplify these qualities. Once inducted into a chapter of NHS, they pledge to uphold the major responsibility of representing Paul V. Moore High School and the Central Square School District with integrity and respect for self and community.
Below are photos and names of the outstanding students who represent the 2021-22 class of Paul V. Moore's National Honor Society.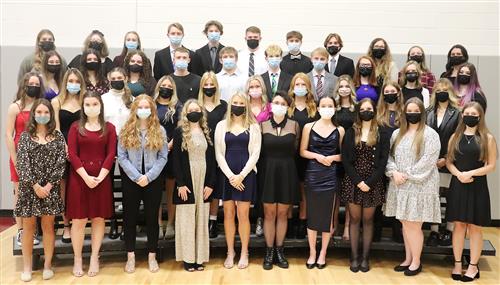 Senior National Honor Society Inductees - Bottom row (left to right): Merissa McCorry, Mackenzie Chapman, Meghan Heffron, Analysa Landes, Savannah Gunther, Josie Colacicco, Faith Farley, Emily Vieru, Emma Lee, Rachel Panek. Row two: Ainsley MacDuff, Isabella Sherman, Sage Wolfe, Olivia Whewell, Lauren Foland, Ashley Concolino, Emma Dempsey, Tess O'Connell, Abigayle Stark, Carolyn Lederer. Row three: Jordan Comstock, Olivia Waterbury, Madeline Forderkonz, Colby Fox, Kole Mulhauser, Michael Kennedy, Gavin Wells, Kaitlin Farrell, Serena Heyden, Cadence Pandossi. Top row: Allie Bateson, Abigail Colledge, Jadalynn Vile, Matt Herrmann, Kevin Suchecki, Gavin Murphy, Paul Bellucci, Ryan Senf, Gabby House, Rosemary Fleischmann, Lily Yaromich. Missing from senior photo: Danni Moran, Jordan Grevelding, Riley Hayden, Olivia, Romano, Megan Wolf.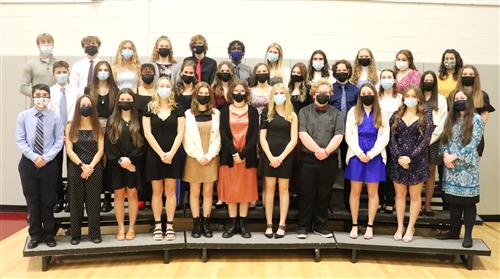 Junior National Honor Society Inductees – Bottom row (left to right): Carl Christensen, Nina Stalsonberg, Katie Kees, Audrey Tetrault, Elaina Kernan, Olivia Cornell, Kamryn Hunt, Matthew Stevens, Allison Domachowske, Isabelle Kennedy, Kalie Krohl. Row two: Connor Orlando, Sophia Bellows, Elizabeth Ngumbi, Arianna Smolnik, Melanie Thornton, Samantha Haley, Autum Paskell, Kyle Waskiewicz, Priya Retajczyk, Kayla Tarquinio, Katie Martin. Top row: Matthew Davis, Patrick Johns, Breanna Ribarovski, Jennifer Purdy, Joshua Sundet, Kenzie Rumo, Tayler Miller, Maria Toleson, Gretchen Wiss, Emilia Armani, Lilliana Walker. Missing from junior photo: Lance Bardoun, Vincent Bardoun, Shaun Saunders.